La bellísima Monica Bellucci es una de las musas de Dolce & Gabbana, en este video podemos verla como imagen de los labiales del duo italiano. En esta campaña el director creativo es Stefano Gabbana, mientras que Domenico Dolce es el fotógrafo encargada de estar tras la lente. El tono labial que lleva Monica es el Red 620 Classic Cream, en el segundo look lo cambia por el labial Petal Lipstick. Las características principales de este labial son su carácter de perdurabilidad y permanencia, todos los labiales tienen un  agradable olor a rosas, disponible en una amplia gama que va desde rojos vibrantes a delicados rosas.
Classic Cream Lipstick–Muse to Dolce & Gabbana, Monica Bellucci, represents the glamour of Old Italy women. Available in understated nudes to vibrant reds like the shade Monica is wearing, the new product boasts of long-lasting color with rich moisture for the perfect seductive look. Domenico Dolce, photographed Monica for the advertisement where she is shown wearing the Devil lipstick in red 620, and Stefano Gabbana is the creative director.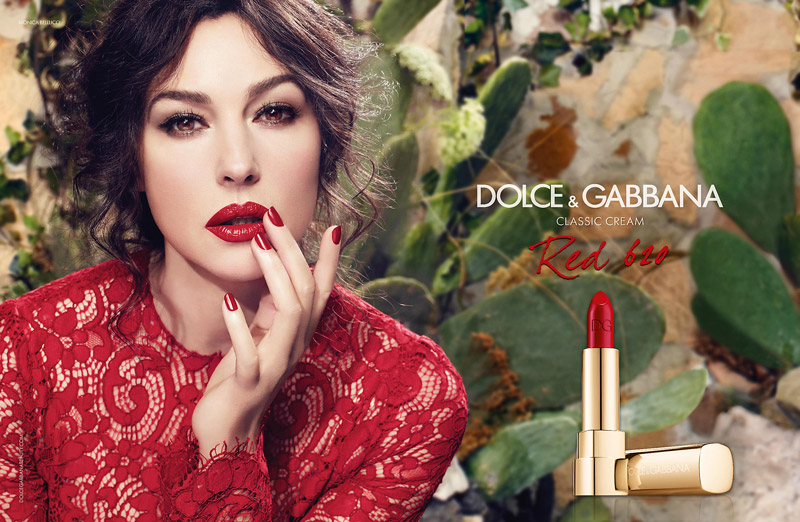 Long-lasting lip color. Rich moisturizers and intense pigments retain moisture without feeling oily. Delicately scented with Dolce&Gabbana's signature powdery rose fragrance. Available in an array of colors, from vibrant reds to delicate nudes and soft pinks. Always apply lipstick with the Retractable Lip Brush, blot with a tissue and reapply. Follow with a Dolce & Gabbana lipgloss in the center of the lips for a sensual finish.